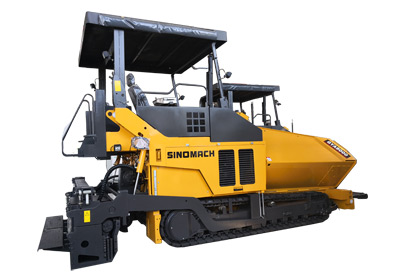 CLPS125 Asphalt Paver
Features of Asphalt Paver
1. Hydraulically powered asphalt paver is controlled via a micro-computer to deliver a constant speed. Digital display and fault diagnosis functions are available.
2. Ultrasonic waves are used to control the amount of material in the hopper and conveyor, preventing segregation of the concrete mix.
3. Self-leveling screed unit ensures flatness of resulting mat.
4. Reinforced screed plate provides extra vibration to pre-compact the mat.
5. Unique screed plate prevents accidental falling and rising.
6. Centralized lubrication system is purchased from German Lincoln, which automatically lubricates hot and movable parts.
7. Critical components are imported from overseas.
8. Ergonomic design improves driving comfort.
Technical Specification:
| | |
| --- | --- |
| Model | CLPS125 |
| Length×Width×Height(mm) | 6610×3100×2930 |
| Total weight(t) | 21-30.5 |
| Diesel engine type | VOLVO TAD720VE |
| Rated output(KW) | 174 |
| Basic paving width(mm) | 3000 |
| Maximum paving width(mm) | 12500 |
| Maximum thickness of paving (mm) | 320 |
| Minimum thickness of paving (mm) | 20 |
| Traveling speed(Km/h) | 0-2.54 |
| Paving speed(m/min) | 0-15 |
| Hopper capacity(t) | 14 |